Chaz Sulkin is the first series on the wiki. It is about a Celestialsapien named Chaz Sulkin who was born with his two personalities, Guadio and Ira, outside of his body causing him to not have to stop in order to debate with them. It was Created by ET but then given to Jack.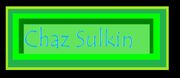 Mother Celestialsapien gives birth to Chaz Sulkin (Character) but due to complications his personalities, Guadio and Ira, were formed outside of his body. Whenever his personalities want to argue he has the choice to ignore them or respond. Chaz can also talk to them while he is doing actions, not having to freeze in time and talk to his conscious. Guadio and Ira also fight with Chaz, they can grow to giant sizes and shoot beams from their eyes and mouths.
Characters
Edit
Main Villian: Fluffy DieDie
Main Villian: TBA
| | |
| --- | --- |
| | Shh! No spoilers! The following section contains some spoilers about an upcoming episode. Read at your own risk. Do not be upset. |
Confirmed by Jack, there will be an unnamed sequel. It was orginially called The Sulkins, Tennysons and Levins but is currently scrapped. He is looking for co-writer so contact him on his talk page. ET gets first dibs since this was originally his but Jack is happy for more writers! This is planned to start in September 2012, like Omniverse. It is confirmed for at least four seasons. A summary is "Chaz, now 15 is more focused han ever! As old and new villains arrive Ben has family problems. Gwen and Kevin say their sorry goodbyes and Ben's new sidekick, Rook, joins the team! Action packed with new drama, aliens, action, comedy and much much more!"